When it comes to buying the correct watch size, people often overlook a crucial factor – the thickness of the watch case.
Watch case thickness refers to the distance between the bottom and top of the watch case, while watch case diameter refers to the overall diameter of the watch case across its rounded edges.
These factors are essential in determining which size watch will best fit your wrist.
This guide will tell you how to buy a good-fitting watch based on your wrist's thickness and diameter.  
This article explains how to buy the right size watch for your wrist: Watch Case Thickness & Diameter.
Why do you need to know your wrist size?

 
Whether leather or nylon, almost every watchband is sized by your wrist size.
When you're buying a watch, it can be hard to tell exactly how big it is by looking at pictures online.
But in reality, there are specific dimensions that you need to know if you want to buy a watch that fits your wrist correctly and looks good.
A common mistake when choosing a watch is buying one that has bands with widths that are too small for your wrist.
It's essential to have adequate width to get a snug fit; otherwise, it'll be too loose and fall off easily.  
What should you know about case thickness?

 
In the case of thickness, there is a direct correlation between how large or small a watch looks on your wrist.
The case diameter right for you depends on how big or small your wrist is.
If you have smaller wrists, it's best to choose something thinner; if you have larger wrists, go for something chunkier.
So why do watches come in such varying sizes?  
Compare watch case diameters:

 
A watch's case diameter refers to its width (measured across its dial) at its widest point.
Case diameters typically range from 33 mm to 46 mm, with more significant numbers equating to a more prominent face.
Many watch styles have different case diameter sizes based on their various versions, such as women's and men's watches; other styles are available in one size only.
When deciding which watch style is right for you, it's essential to consider your measurements to find one that fits comfortably on your wrist without being too loose or too tight.  
Choose the watch with a dial large enough for your wrist:  
It's essential to consider your wrist size, but you also need to think about what size watch face will be right for you.
If you have a small wrist, look for smaller watches with dials less than one inch in diameter.
These watches will create proportion on your wrist and won't overwhelm it.
They can be less noticeable and give an air of maturity, whereas larger watches draw their attention.
However, if you don't want anyone else to notice your watch when they look at your wrist, go with a larger model; a large watch face may distract from other ensemble elements.  
What watch size is right for my wrist?

 
Usually, if you have a smaller wrist, you'll want a smaller watch, and if you have a larger wrist, you'll want a more oversized watch.  
How To Buy The Right Size Watch For Your Wrist: Watch Case Thickness & Diameter.
In this next part, we will detail the five major components.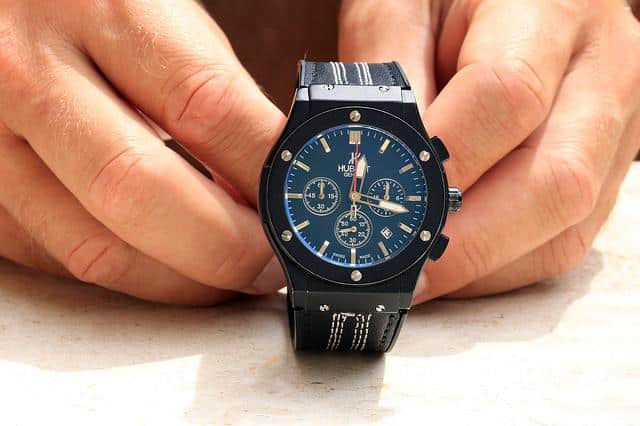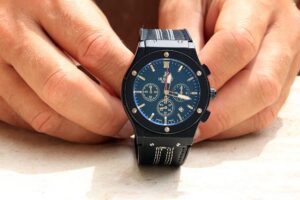 Watch Case Diameter: 
Another critical factor in determining your watch size is case diameter, which refers to how wide your watch is.
If you like flashy watches with a more prominent face, you'll want to ensure room for a bigger band on your wrist; if you prefer a thinner face, it may be better to go with a smaller diameter.
Watch thickness also depends on what kind of band you're rocking.
If you opt for leather or metal bracelets (as opposed to nylon), it's unlikely that anything more significant than 42mm will work—you won't have enough room in between them and your wrist.
However, if you plan on going with a simple rubber strap or thin plastic band, many watch faces can comfortably fit up to around 48mm in diameter.  
Watch Case Thickness:  
A watch case's thickness will influence whether or not it fits your wrist correctly.
With a watch case that is too thick, you might see gaps between your wrist and the edges of the case.
This can make it difficult to wear jewelry on top of a watch, especially if you have long arms.
There's also a chance that an overly thick watch case will look awkward and out of place on smaller wrists.
A good rule of thumb for determining whether or not a case is too thick? One-quarter inch should be as small as possible to wear on your wrist comfortably.
Any more than one-quarter inch above that mark could be an issue for those with smaller wrists or women who like to layer multiple bracelets with their watches.  
Watch Band Material: 
Many watch bands are either made of metal or Rubber.
Each material has its pros and cons.
While metal is known for being durable, it also tends to be uncomfortable and heavy.
On a hot day, you can only imagine how uncomfortable the metal will feel on your wrist.
On the other hand, Rubber is much more flexible and comfortable to wear but doesn't last as long when it comes to durability—the material stretches over time so that your watch isn't sitting correctly against your wrist.
So if you plan on wearing your watch every day for years to come, a rubber band might not be an ideal choice for you.  
Watch Band Width: 
If you have a large wrist, pay attention to the watch bandwidth.
If you have a small wrist, choosing a wider watchband is safe.
If your watchband is too thin and you have a small wrist, it will flop around on your arm and not stay in place.
A thicker band can be more brutal to squeeze onto a slim wrist but will rest securely once it's there.
Make sure you try different styles of watches on with different thicknesses of bands if possible when shopping for your new timepiece.
This way, you'll know how different bands feel before making an actual purchase. 
Watch Details & Components:

 
Finding a watch that fits well isn't just about looks.
If you buy a watch that is too small for your wrist, it can be uncomfortable and even painful to wear.
The best way to determine which size watch is right for you is to know what makes up a watch case and how it affects overall size.
A watch case typically has three parts; a case back, mid-case and bezel.
All three components affect how a watch fits your wrist, making different sizes suitable for different wrist sizes and shapes.  
Tips for Buying the Right Watch:   
It's easy to focus on just one feature when shopping for a watch, such as whether it has a clock or how many diamonds are in it.
But if you want to avoid buying a watch that's too big or too small for your wrist, focus on details that affect fit and style.
All watches have case measurements in millimeters — not surprisingly called case diameter — and width measurements, usually given as millimeters but sometimes measured in inches.
How those measurements relate to your wrists and overall look preferences matters most.
If your watch looks overly bulky or tiny compared with your hand size and skin tone, it probably won't be comfortable no matter what its measurements are.  
How Do I Measure My Wrist For A Watch?  
When looking for a watch, you must first know how to measure your wrist for a watch and estimate what size will fit best.
This might sound daunting at first, but it's not. What you need is a ruler.
Here's how to measure your wrist for a watch that will fit perfectly.
How To Buy The Right Size Watch For Your Wrist: Watch Case Thickness & Diameter.
Conclusion:  
Always get a measuring tape and use it to measure your wrist.
Also, look at watch details and components to buy the right size watch for your wrist.
Watch case thickness is one of the essential measurements you need to consider while buying a watch.
Remember that adding a couple of millimeters will mean better wearing comfort; hence, you can go for watches with a 4mm thick case diameter.
Moreover, check the materials used in making up watch bandwidth and material type. A gold-plated watch band is recommended if you are all about luxury and class.
It's ideal if you want to flaunt your style statement and make a strong fashion statement.
However, stainless steel watch bands are best suited if you are more concerned about practicality.
Stainless steel watch bands have become quite popular because they come in various styles and designs and provide high durability.
Depending on your preferences, you can also choose from various watch straps made from different materials like leather or Rubber, etc.
It's always advisable to take professional help before finalizing any purchase, no matter how small or big.
We hope this guide has been helpful in your search for How To Buy The Right Size Watch For Your Wrist: Watch Case Thickness & Diameter.
If you have any questions, please ask in the comments below.
Related posts: