The watch assists you in finishing your paper on time, helps you maintain a consistent schedule, and enables you to do all tasks on time.
Have you ever wondered when the first watch in history was invented?
Let's have a look at the history of watchmaking.
To understand the history of watches, we must go back to the 15th century.
It was the beginning of the history of watchmaking.
Time was critical for the explorers because they needed it to navigate the sea.
Latitude was easily determined and calculated using the stars, but navigators needed actual time to determine longitude.
The explorers urgently felt the need for a time-keeping instrument at this point to navigate correctly.
Thus, the history of watchmaking began here.
This article will provide you with information on When Were Watches Invented?
Water clocks and sundials:
The early timekeepers were sundials and water clocks.
Egypt is home to the world's oldest sundial.
Obelisks, which the Ancient Egyptians built about 3500 BC, inspired the watches.
The clocks were precise, as they divide into 12 sections.
The sun, on the other hand, did not shine at night.
The sundials would also be set early during certain times of the year.
Water clocks arose as a result of this.
Water clocks may be traced by historians back to the 16th century BC.
 A bowl with a hole submerges in the water clock.
A continuous stream of water gets poured into the water clock.
It had markers on it that indicated when the water had reached them.
Ancient water clocks have been discovered in pyramids by archaeologists.
They were present in the tomb of Amenhotep I, the pharaoh who reigned 1504 years before Christ.
The very first mechanical timepiece:
In 1275 the first-ever mechanical watch was invented.
One of the oldest dates from 1386 is present in Salisbury cathedral.
Its shape and structure were not like a typical watch but resembled a pulley or a lever.
Mechanical clocks were also present in Itlay.
These watches displayed time through striking bells. 
The Pocket Watch's Emergence:
Swiss clocks were engineering wonders.
They are based on watchmaking traditions that date back centuries.
In Switzerland, the first pocket watch was made.
There's a beautiful tale to it. When Were Watches Invented?
In his period in Switzerland, John Calvin broke away from the Catholic church and prohibited individuals from wearing jewelry.
In a frenzy, Swiss jewelers devised substitutes: pocket watches.
The earliest pocket watch was discovered by its discoverer in the 1570s.
That was fashioned of bronze and had religious imagery, and watchmakers traditionally used Iron in clocks.
Therefore the fact that it was fashioned of bronze is unusual.
The Origin of Pendulums:
We couldn't tell time accurately before pendulums.
Mechanical clocks were only 15 minutes per day accurate.
Although Galileo invented them in 1602, the first pendulum was patented in the 1650s by Dutch scientist Christian Huygens.
If you're a physics fan, you're probably aware that it assisted Isaac Newton in determining the earth's shape.
Timekeepers employed the same pendulum technology as pendulums.
As a result, they were exact.
The Grandfather clock is a fantastic example of this.
Clocks Become More Common:
Christiaan Huygens, a Dutch mathematician, astronomer, physicist, and horologist, created and patented the pendulum clock in 1656.
The time lost by watches decreased from around 15 minutes to about 15 seconds every day because of this technology.
Pocket watches began to get produced in a variety of designs and sizes.
They thinned out, making them easier to transport.
During this time, even table clocks were famous.
Because of their popularity, they were continually improving.
The deadbeat escapement was invented, which improved the accuracy of watches.
Automatic mechanisms were first introduced around 1770 by Abraham-Louis Perrelet.
America had taken the world of watchmaking by storm:
The industrial revolution did not terminate in the nineteenth century.
Companies in the watchmaking industry devised methods to mass-produce their products.
Less expensive materials began to get used.
It made it possible for ordinary and everyday people to own pocket watches.
Key-winders in pocket watches were phased out when they reduced production costs.
The crown was born as a result of this.
The Birth of Wristwatches:
Caroline Bonaparte, Queen of Naples, was the first woman to wear a wristwatch made in the year 1812.
Abraham-Louis Breguet gave her the timepiece because she adored jewelry.
Although he was credited with creating the first wristwatch, this is not entirely accurate.
Queen Elizabeth, I wore a watch that looked like a wristwatch.
Caroline Bonaparte's watch, on the other hand, is regarded as the forerunner of the modern timepiece.
She was Napoleon Bonaparte's younger sister.
Hence she was linked to him.
Men didn't wear wristwatches, preferring pocket watches instead.
In the late nineteenth century, this began to shift.
In Germany, military personnel began wearing clocks for the first time.
Inventions in Modern Watchmaking:
In timepieces, stopwatches are a standard feature.
In the 1930s, they granted a patent.
Electric timepieces, the forerunners of quartz watches, were developed in the 1950s.
Solenoids powered their gears.
When it comes to quartz watches were first introduced in 1969.
Bags abound in mechanical watches.
They become more sophisticated, but they also become unreliable and hefty.
Quartz watches were the best option because they just used a battery.
The invention of quartz watches:
In contrast to the automatic watch, watchmakers began attempting to produce electric timepieces in the 1950s.
The main aim was to make something that could maintain time without being worn or stored in a watch winder.
The earliest of these electric watches appeared in the 1950s and kept time by powering the balance wheel with a solenoid.
Instead, some of the more complex models used a steel tuning fork.
However, this particular watch style did not last long.
Seiko began developing a quartz crystal and battery-powered watch in 1959.
By the 1964 Summer Olympics, they had a functional framework.
The people used the watch to time events at that year's games, and it performed admirably.
The inventors released the first official quartz timepieces in 1969.
Instead of a mainspring, the watch contained a quartz crystal set at a specific hertz level and powered by a battery.
The quartz movement differs from previous movements.
Quartz watches employed a digital counter instead of a mechanical balance wheel and other elements.
Because they were inexpensive and simple to construct, these timepieces grew popular.
Quartz watches of the finest quality were also more accurate than some mechanical watches.
On the other hand, Quartz watches have lost a lot of their shine in recent years.
People buying classic timepieces often seek a piece of jewelry rather than a functional clock in a world where smartwatches can tell you the time and the weather.
Digital Watches Make Their Debut:
Digital watches, believe it or not, have been available since the late 1800s.
However, they didn't have LED screens at the time (obviously).
The devices had dials with digits that people could read.
They had mechanisms that swapped out the numbers, effectively removing the watch hands.
They did not, however, take off.
The digital watch as we know it now was created in 1972.
The original model, Pulsar, was manufactured by Hamilton, an American watchmaker.
The seller sold it for more than $2000.
It appears to be excessively expensive, given that people can now purchase digital timepieces for less than $50.
By the late 1970s, the technology underpinning digital watches had become widely available.
Sellers sold them for the same price as today's timepieces.
The arrival of smartwatches: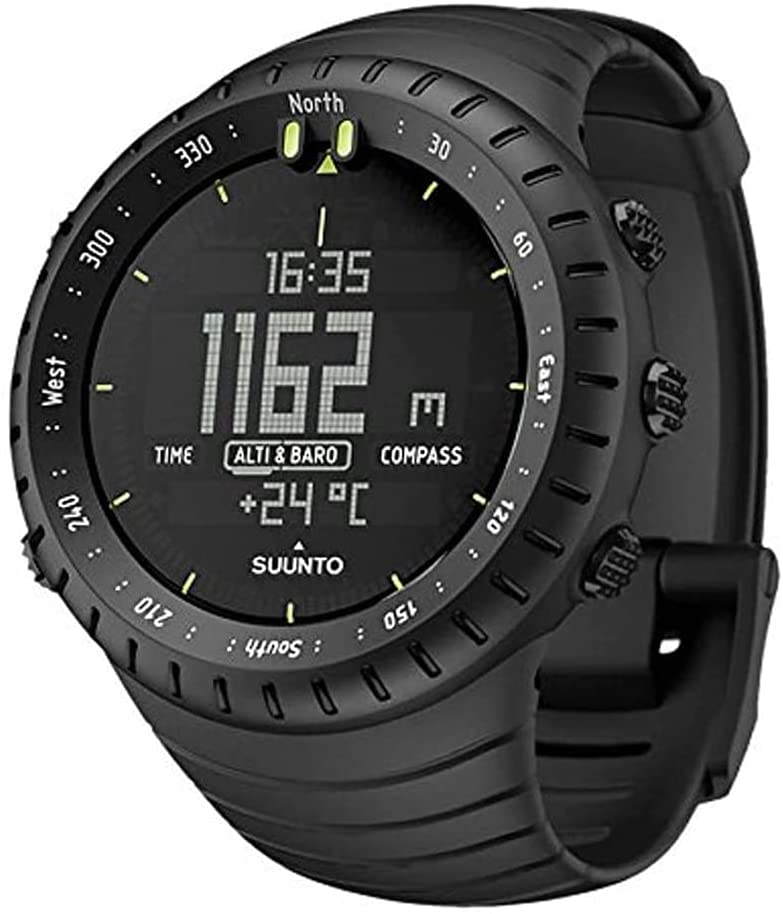 With the Seiko Ruputer, Seiko chose to take digital timepieces a step further.
It sported a 2-inch LCD and was the world's first smartwatch.
It allowed users to access their contact information as well as play games.
There were no touch displays back then.
The device is controlled using buttons.
On June 10th, 1998, the Ruputer was released to the public.
The Timex Datalink is regarded as the world's first smartwatch.
It is used as a storage device.
It might be able to download data from computers and keep track of information.
It was released four years before Seiko's watch.
Related questions:
What's the difference between a quartz and an automatic watch?
Watches that wind themselves as you wear them are known as automatic watches.
They utilize the kinetic energy of your wrist movements to wind up the mainspring, which is what keeps the watch running.
A quartz watch keeps time using a quartz crystal driven by a battery.
It is less expensive than automatic watches. However, there are exceptions.
Is there a difference between watches today and watches in the past?
No, in some ways! Today's watches resemble the earliest wristwatches soldiers wore during the conflict.
Components have evolved, and watchmakers have discovered more accessible ways to achieve the same purpose.
However, the essential function of a mechanical wristwatch has remained relatively unchanged over time.
Final Words:
Watches have a long and illustrious history.
They were employed as sundials by ancient cultures.
Water clocks were invented because people could not always rely on the sun.
History shifts to the Middle Ages, when mechanical clocks were designed and pocket watch development chefs gradually improved until wristwatches appeared.
At first, wristwatches were not very popular.
Women were the only ones who wore them.
Pocket timepieces not exposed to the weather were more practical for men who had to be out and about.
It was altered by World War I.
Quartz, digital, and smartwatches have become popular in the twenty-first century.
The history of the watch's timeline will continue to grow as time passes.
Related posts: